The last roll of the dice. We've danced this dance before, can Evenepoel do what Dumoulin couldn't in 2015 and survive Morcuera and Cotos to end his country's GT drought?
Annoyingly the stage starts with a detour to the bottom of Navacerrada, they could have started climbing pretty much right out of the gate but Unipublic doesn't seem to believe in that kind of thing. The climb itself is of course a known quantity and a staple of the race - and rightly so, as it's as about hard as a Madrid area pass gets. The final ~8.5k match up with the profile below but the road starts to rise before that.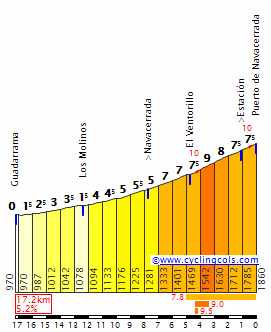 The descent is followed by the only long flatter section of the day, then it's time for Puerto de Navafría.
The next climb, Puerto de Canencia, is the easiest of the day, but still has some good ramps.
The descent takes us into Miraflores and here we join the 2015 and 2019 stage routes as we immediately hit Puerto de la Morcuera. It's the final 9 kilometres of the profile below.
The descent gives way to a brief flat, then the final climb of the race, Puerto de Cotos, starts. After it, we deviate from the 2015/2019 script, continuing on to Navacerrada but finishing there rather than descending the side that was climbed at the start of the day. I like this combination of a climb giving way to a short flat towards the line on the final mountain stage, we haven't seen something like it since the 2017 Giro. That day, an otherwise-mediocre stage culminated in the Dumoulin group frantically chasing down the other contenders. We're unlikely to see something like that for the race win this time, but it does open up the opportunity for tactical games in the battle for the lower spots on GC, starting with the race for third.