Damn you RDV4ROUBAIX!
I promised myself awhile ago that I wouldn't even
look
in this thread. I spend too much time on the forum as it is, and I've got way too much Ol' Skool trivia to throw in here if I'm not careful (must...pace...myself).
But here I am. I was hoping to see Detroit and Boston face each other for the Stanley Cup this year. It's hard to beat a classic, Original Six match-up. Ah well.
Personal hockey trivia:
Grew up with American/Canadian dual citizenship.
Played as kid up through teen years.
Recently discovered that my grandfather was captain of the Queen's University hockey team in Kingston, Ontario (about a hundred years ago).
The first pro game I went to was '77-'78 season watching Gordie Howe play alongside his two sons Mark & Marty in the WHA.
Gordie led the team in scoring that year. He was 50-years-old!
Helmets were optional back then, and Gordie definitely wasn't sportin' one.

With respect to RDV4ROUBAIX (because of his origin) and Boeing (because of his recent avatar)...

The other guys on that same team (well, two of them at least!)?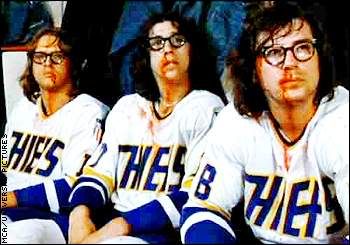 Like I said: Ol' Skool!