There were 2 important junior races this weekend.
First of all Le Trophée Centre Morbihan (2.Ncup)
First year junior Blikra won stage 1 in the sprint, he also won stage 2 the ITT with a pretty big margin (19 seconds in 7.2 km), which was the decisive stage for the Final GC.
The final stage was won by Fillippo Rocchetti.
Final GC
1. Erlend Blikra (Nor)
2. Nicolay Cherkasov (Rus)
3. Niklas Larsen (Den)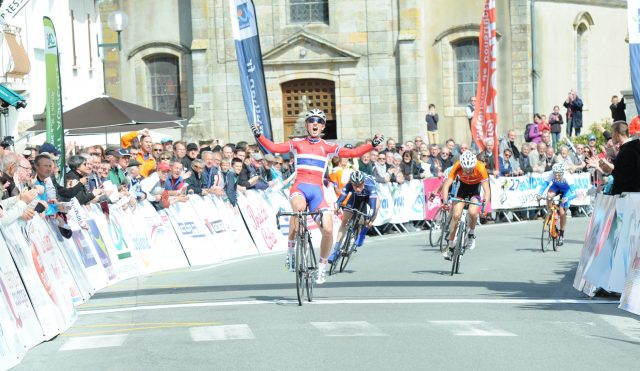 (Picture of stage 1, won easely by Erlend Blikra)
The other important junior race this weekend was the Internationale Junioren Driedaagse van Axel (2.1) (although not as international as Le Trophée Centre Morbihan)
The overall of the race was won by Dutch speedskater Peter Lenderink who was in the first group in stage 1 (won by Dennis Delmote) and finished 2nd in stage 2 the short ITT (won by Senne Leysen). Stage 3 ment a 3rd Belgium stage victory as Thimo Willems won solo. The 4th and final stage was won by another Belgium rider Wouter Persoon.
Final GC
1. Peter Lenderink (Ned)
2. Jan Tschernoster (Ger)
3. Bram Welten (Ned)
(Lets hope Peter Lenderink is a good boy and decides to put his focus on cycling instead of speed skating)