Name: Lennard Kämna
Born: 9. September 1996
Height: 1.81m
Weight: 65kg
Nationality: German
Type of rider: Allrounder, Time Trialist, Climber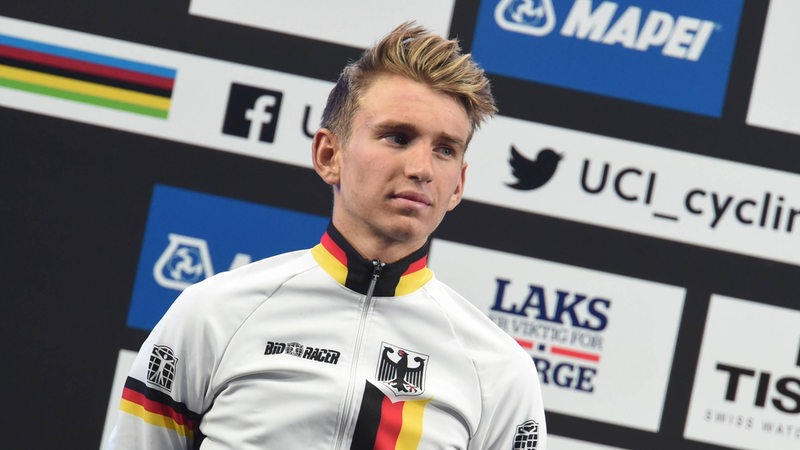 Major results
2014
1st Jersey rainbow chrono.svg Time trial, UCI Junior Road World Championships
1st UEC Champion Jersey.svg Time trial, UEC European Junior Road Championships
1st MaillotAlemania.PNG Time trial, National Junior Road Championships
1st MaillotAlemania.PNG National Junior Hillclimb Championships
2nd Overall Trofeo Karlsberg
1st Stage 2b (ITT)
2015
1st MaillotAlemania.PNG Time trial, National Under-23 Road Championships
1st Stage 4 Giro della Valle d'Aosta Mont Blanc
UCI Road World Under-23 Championships
3rd Bronze medal blank.svg Time trial
10th Road race
6th Overall Course de la Paix Under-23
9th Giro del Belvedere
2016
1st EuropeanChampionJersey(2016).png Time trial, UEC European Under-23 Road Championships
4th Time trial, UCI Road World Under-23 Championships
6th Overall Circuit des Ardennes
1st Jersey white.svg Young rider classification
2017
UCI Road World Championships
1st Gold medal blank.svg Team time trial
2nd Silver medal blank.svg Under-23 road race
5th Overall Tour des Fjords
Grand Tour general classification results timeline
Grand Tour 2017 2018 2019
A pink jersey Giro d'Italia — — —
A yellow jersey Tour de France — — 40
A red jersey Vuelta a España DNF —
After a stellar amateur career Kämna was widely regarded as Germany's biggest cycling talent since Jan Ullrich. In is first season as a pro in 2017, Kämna was able to live up to this hype at the very oung age of 20/21 years. He had some very promising results, including Top 10 finishes in both the Vuelta as well as the the Roamndie TT. He also was a part of Sunwebs world champion TTT squad.
However, in 2018 Kämna fell into a huge crisis, being drained both physically and mentally, Losing more or less the whole year. After that year many people already thre in the towel and were writting off Kämna.
However, this years Tour de Suisse saw a sectacular comeback by Kämna. Apparently out of nowwhere Kämna finally showed what talent he has by establishing himself as a Top 10 climber of the Tour the Suisse.
Things only got better once the Tour started. During the first week Kämna acted as the perfect domestique, being Sunwebs strongest rider who regularly set up Matthwes for the punchy finishes of the first week. Once the high mountains started Kämna was able to play his own cards. He went on the attack several times and showed his potential in several groups in the Pyrenees and Alps. The highlight obvioulsy being the stage when he finished 4th and the one to Prat d'Albis when hewas even able to hang with Buchmann and Bernal on the final climb for quite some time after a long breakaway.
On the very last day Kämna was able to hang with the best climbers of the Tour for a very long time, proofing that he could already challenge for a Top15 GC spot if he went for it.
So in this Tour Kämna not only confirmed his talent but he also showed that he has great potential as a climber and has excellent recovery skills.
At this point of time, the SKY seems to be the limit for Kämna. There's no reason to doubt that he can be a serious GC contender in the near future.
So you better join the bandwagon now!
Lennard Kämna, Tourgott 2.0!