Re: Re:
Mayomaniac said:

Forever The Best said:

Mayomaniac said:

Forever The Best said:

Strangely enough I can see bp92's stages till the TT and all of Olav's stages.
That Zapatero finish is similar to Vegarada-Riopinos, a false flat after a tough climb. I can also see your Güican stage which looks great.
@Mayo 230 km and a hilly stage is good but not sure if the final 2 climhs will bring action cause the stage looks pretty easy. But then again Contador exploded the race on Col de Manse in the 16th stage of TDF 2011 which looked like a very easy stage on paper for GC contenders.

Yes, it's not the hardest stage, but the fact that it's long and comes right after the 26.6km long ITT could change things up and frankly there aren't any climbs that you could use earlier on that stage.

Ah, since there is a state park and national park there are only a few usable roads, so yeah it is understandable that there aren't any climbs you can use beforehand. Also the altitude should be factor, with the stage being around 2000m all the time. The stage can be harder than expected.

Well, you could start the stage near Grand lake, climb the western side of Trail Ridge Road, then Rist Canyon Rd from South (the steep final 2km are still the same) the first time, then westwards on the Big Thompson Rd after the descent before the final Stove Prairie Rd-Rist Canyon Rd combination, but I already used the other side of Trail Ridge road in this version of my Tour of Colorado (and the western side in my first version), so I didn't want to do that.

The stage would feature over 3100m of altitude gain look like this:
That one is harder and I'd prefer that one but Trail Ridge Rd. would be overused then so I understand it. A great race though and diversity is what Tour of Colorado needs and you do it really well.
@mikii4567 Thanks a lot for the comments! Croce Arcana's descent needs some work but there are many possibilities for a brutal mountain stage in that area. Also, the 5th stage of your TDF looks good for stage hunters and may be harder than expected to control.
Giro d' Italia Stage 14 Varese-Santuario di Oropa 209,3 km Mountain
https://www.la-flamme-rouge.eu/maps/viewtrack/hd/120285
KOM SPRINTS:
Mottarone (1st Category, 1338 m, 19.8 Km at 5.8%, Km 70.3)
Passo della Colma (3rd Category, 923 m, 8.1 Km at 5.7%, Km 104.4)
Monte Tovo (1st Category, 1166 m, 7.6 Km at 10.2%, Km 125.9)
Alpe di Noveis (1st Category, 1101 m, 8.5 Km at 8.4%, Km 154.3)
Valico di Bielmonte (2nd Category, 1484 m, 18.3 Km at 5.5%, Km 182.2)
Galleria di Rosazza (1st Category, 1536 m, 7.9 Km at 8.5%, Km 203.7)
An extremely tough mountain stage. The intermediate sprints of the day are in Arona and Omegna.
Arona:
Omegna:
Mottarone: (the first kms may be on a different road)
Passo della Colma: (only the last 8k are categorized but all of this profile is ridden.)
Monte Tovo: (the last 1-1,3 km is missing)
Alpe di Noveis: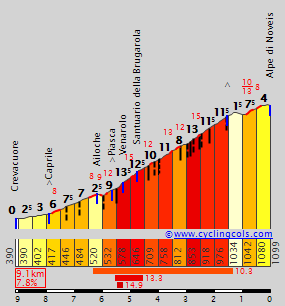 Valico di Bielmonte:
Galleria di Rosazza: (from the intersection with Bielmonte, only the last 7,9 km)
Varese:
Santuario di Oropa: