Tour de France 2019 stage 8 Mâcon - Saint-Étienne 200 km
Saturday's Stage 8 in the Tour de France is a race from Mâcon to Saint-Étienne. The route takes in an altitude gain of 3,750 metres and amounts to 200 kilometres.
Mâcon hosted its last Tour de France in 2012. That stage took in three mountains and it turned out to be a day for the breakaway. Thomas Voeckler finished solo in Bellegarde-sur-Valserine.
The 2019 stage travels from Mâcon to Saint-Étienne. The capital of the Loire department is a popular arrival town in La Grande Boucle with 22 stage finishes since 1950. It has been a while though. The 2014 Tour de France saw the last stage finish in Saint-Étienne with Alexander Kristoff outsprinting Peter Sagan and Arnaud Demaré at the end of a hilly race.
This year's route is also teeming with hills, yet 'only' seven are classified. Riders who are eyeing up the polka dot jersey have to be alert at kilometre 51. This is the summit of the Col de Croix Montmain, which is a 6.1 kilometres climb at 7%. At kilometre 71 more KOM points are available at the Col de Croix de Thel (4.1 kilometres at 8.1%) before the Col de La Croix Paquet (2.1 kilometres at 9.7%) is crested at kilometre 84.5.
Following the passage over the Côte d'Affoux (8.5 kilometres at 4.5%) the second half of the race offers three more KOM climbs. Côte de la Croix de Part peaks at kilometre 133 after a 4.9 kilometres toil at 7.9%. The Côte d'Aveize is also polka dot material. The 5.2 kilometres climb at 6.4% is crested with 51.5 kilometres remaining. The route continues to go either up or down with the Côte de la Jaillère standing out. The 1.9 kilometres hill slopes at 7.9%, while it is crested with 12.5 kilometres out.
Moreover, time bonuses of 8, 5 and 3 seconds are up for grabs at the top.
The descent leads to an uphill kick at 5% in the third kilometre before the line. The ensuing downhill runs to the flamme rouge, while the last kilometre is flat.
Time bonuses of 10, 6 and 4 seconds are awarded to the first three riders on the line. Plus, as mentioned, there are extra seconds available at the Jaillère.
Start 12.10 CET (12.25 CET km 0)
profile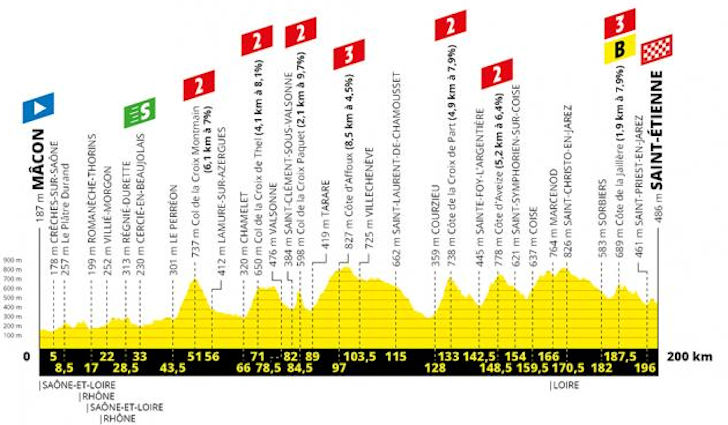 map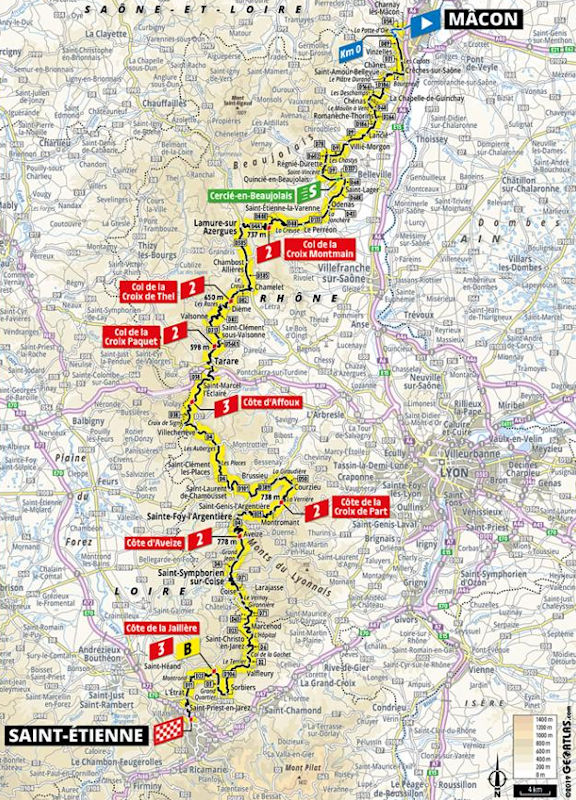 finish