My first Po valley flat stage with some additional insight into Colli Euganei, which may or may not be a little bothersome to some sprinters.
Last stage:
link
https://www.la-flamme-rouge.eu/maps/viewtrack/228879
Giro d'Italia 2 – stage 13. Modena – Monselice, 157km, flat.
Climbs:
Teolo – 3,5km, 3,9%, cat. 4, 166m
Cobbles:
Arquà Petrarca – 400m, *
The most interesting to you are probably the last 35km inside Colli Euganei. They feature the only categorised climb of Teolo good 30km from the finish – something the breakaway will like to snatch and a tiny but potentially bothersome sting in Arquà Petrarca that is 400m at 9% on easy cobbles, roughly 6,5km from the finish line. It's preceeded by another little ledge of 500m at 7,7%.
The cobbled climb in Arquà Petrarca.
Other quite interesting aspect (for me) is Lombardia and the Province of Mantova, which for some reason extends very far to the east, almost reaching Ferrara. I didn't wanted Lombardia on this stage. There will be time for it so i needed to do some additional twisting. Thankfully, the Padan roads are mostly wide, in good condition and there's a fine bridge over Po in Ficarolo that's just outside the grabby Lombardian hands. However, this forced me to have one rail crossing slightly before that. However, that's good 90km from the finish so it shouldn't matter.
I've decided to start in Modena as otherwise i deemed the stage to be a bit too short. Because the last stage was in Bassa Modenese/Mirandolese i needed to bypass it. The easiest way is definitely from east, using Cento as an anchor. That however forced me to slightly clip the metropolitan areas of Bologna and Ferrara so i hope there's no ill will on their side. When crossing the Po and entering Veneto the situation is easier with only the provinces of Rovigo and Padova in the stage.
Piazza Grande, Modena.
I won't be focusing on the Estense gem that Modena is. However, this stage may as well be dedicated to these very rich Italian magnates, as during it there will be plenty of places founded by them. I guess i can mention that the entire central square – XII c. Piazza Granda with its Duomo and its bell tower Torre Ghirlandina are part of the UNESCO WHS. Also worth noting may be the VII c. lombardian Nonantola abbey, during the middle ages one of the most powerful in Europe and often a subject of disputes between the Holy-Roman Emperors and the Popes. Pope Hadrian III was buried in the abbey after his death in 885. One of abbey buildings is now used as the town hall of Nonantola.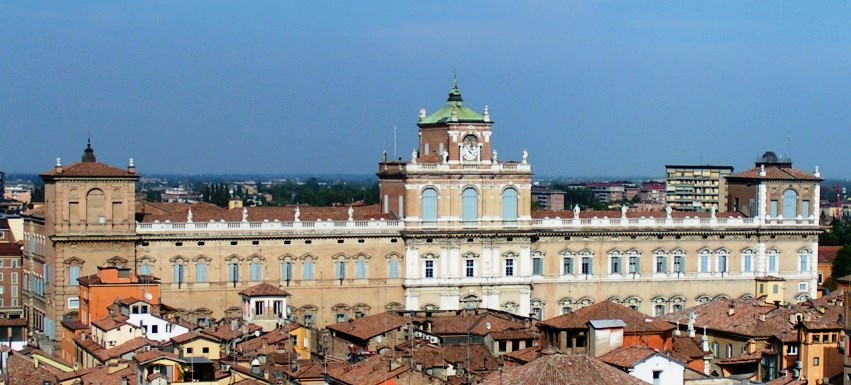 XVII c. Palazzo Ducale, Modena.
Abbazia di Nonantola.
The first 65km in Emilia Romagna are inside a historically dispute area between Modena, Bologna and Ferrara. The stage also sort of runs alongside the borders between Modena, Bologna and Ferrara. The first 17km are eastwards towards San Giovanni in Persiceto that includes the passages through Nonantola and Sant'Agata Bolognese renown for being the HQ of Lamborghini. San Giovanni in Persiceto is the chief town of a little area of Persiceto located northwest of Bologna. This area was a Longobardian duchy created in 728 after the Lombards won it from the Byzantine Ravenna. The duchy was abolished as a result of Charlemagne's invasion in 774.
San Giovanni in Persiceto.
From San Giovanni in Persiceto the stage will mostly head north towards Colli Euganei. To not end up in Finale Emilia, which was on the last stage i need to go through Cento. It's the largest town in this general triangle of Bologna, Ferrara and Modena. While now it's inside the metropolitan area of Ferrara, historically it's linked with Bologna. It even has a nickname of "La piccola Bologna" as its historical center for some people resembles that of Bologna. The town was founded in 1185 by the bishops of Bologna, who in 1378 also founded the Rocca di Cento. In 1502 the Pope Alexander VI took the town from Bologna and gave it to Lucrezia Borgia. Cento's Palazzo del Governatore was built on the occasion of a marriage between Lucrezia Borgia and Alfonso d'Este. The town was quite badly damaged by the 2012 earthquake. In 1995 the 12th stage of the Giro finished here and was won by Ján Svorada in a sprint.
Cento.
Rocca di Cento.
The race will cross the Po and enter the region of Veneto between the towns of Bondeno (on the Emilia-Romagna side) and Ficarolo (on the Veneto side). Bondeno is known as the place of first printing manufacture in Italy, done in 1463 by a printer from the Guthenberg factory in Mainz. The town is also home to one of these tiny Ferrara castles in a nearby village of Stellata overlooking the Po. The Rocca Possente was created in XI c. as a postguard on the river. The modern appearance was created by Nicolas II d'Este in 1362. It was restored once again in 1521 after a Venetian sacking. This castle is part of a UNESCO WHS entry on Ferrara. There was also a similar postguard in Ficarolo on the other side of the Po but now it's in ruins.
Rocca Possente, Bondeno.
In Ficarolo the stage enters the province of Rovigo (region of Polesine). After roughly 10km the stage enters the province of Padova over river Adige where it will stay to the finish. The crossing over Adige is done in Badia Polesine – the administrative and industrial hub of Alta Polesine. The town is also home to X c. Abbazia della Vangadizza founded by the duke of Mantova Almerico. The abbey was abolished in 1789 and designed for demolition in 1810 but some buildings like the chapel and bell tower were spared. One of the earliest memebers of the Este dynasty Alberto Azzo II is buried here. Also worth noting is XI c. Chiesa di Santa Maria dei Pra' located in Ponso, a village between Badia Polesine and Este.
Abbazia della Vangadizza, Badia Polesine.
Soon the stage enters the town of Este at the southern tip of Colli Euganei. However, the stage will go around Colli Euganei first and then enter them from north. A Po valley bronze age culture was named after the town. The town itself dates back to antiquity, when it was known as Ateste. It later gave name to the Este dynasty after in 1073 Alberto Azzo II founded a castle/residence in the town. In 1240 Este moved their residence to Ferrara as Este (town) fell to Venice. The town is home to 3 large necropoli from spanning from the Bronze Age to the Roman Empire, Duomo di Santa Tecla rebuilt after a 1688 earthquake, XI c. Chiesa di San Martino and Museo Nazionale Atestino (inside XVI c. Villa Mocenigo) housing many pre-Roman artifacts of the Este culture and of course the eponymous castle.
Castello di Este.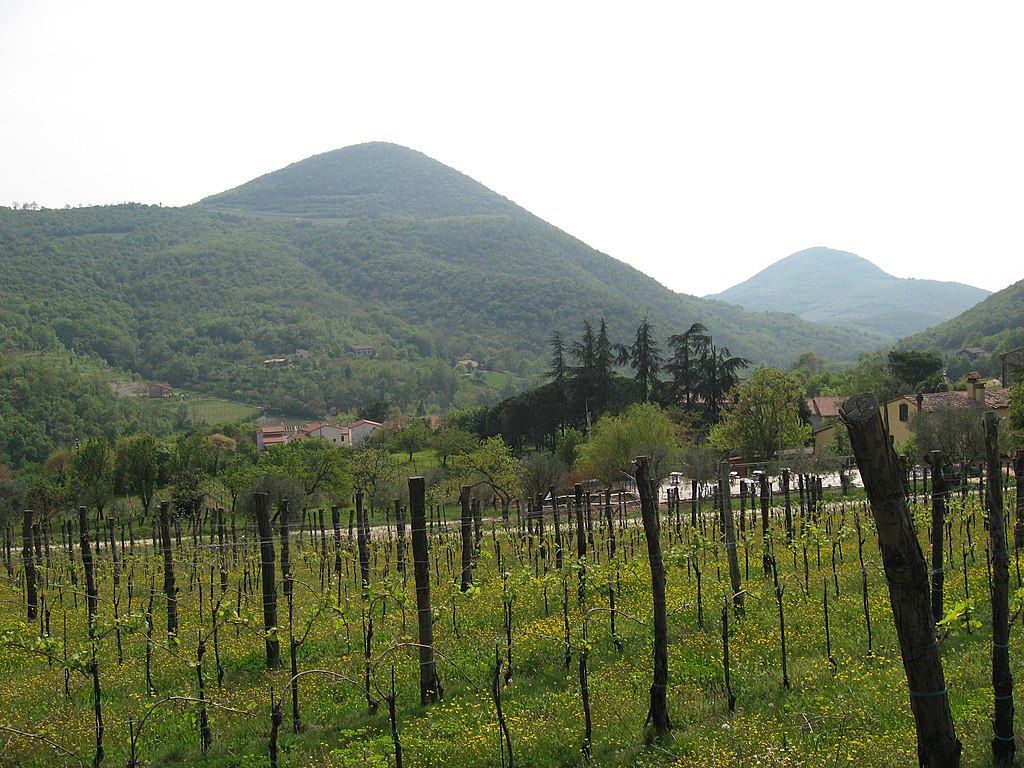 A glimpse of Colli Euganei, Monte Rusta (396m).
Colli Euganei is a sub-alpine hilly range that cuts deep into the Po plains and separates the Po plains from Friuli-Veneto plains. Highest peak is Monte Venda at 601m. Since antiquity the hills were famed for baths, since plenty of places with Terme in names like Abano Terme, Montegrotto Terme, Galzignano Terme or Battaglia Terme. They were also popular with many artists and nobiblities, hence a large amount of lavish villas and gardens.
Monte Gremola (281m).
Colli Euganei were also quite densly populated in the Prehistoric so there are now a lot of places with very long history and a number of archaelogical sites. Such an example can be Lozzo Atestino just north of Este. Lozzo's possibly Roman or earlier fort was in XIV c. transformed into a full fledged castle Castello di Valbona.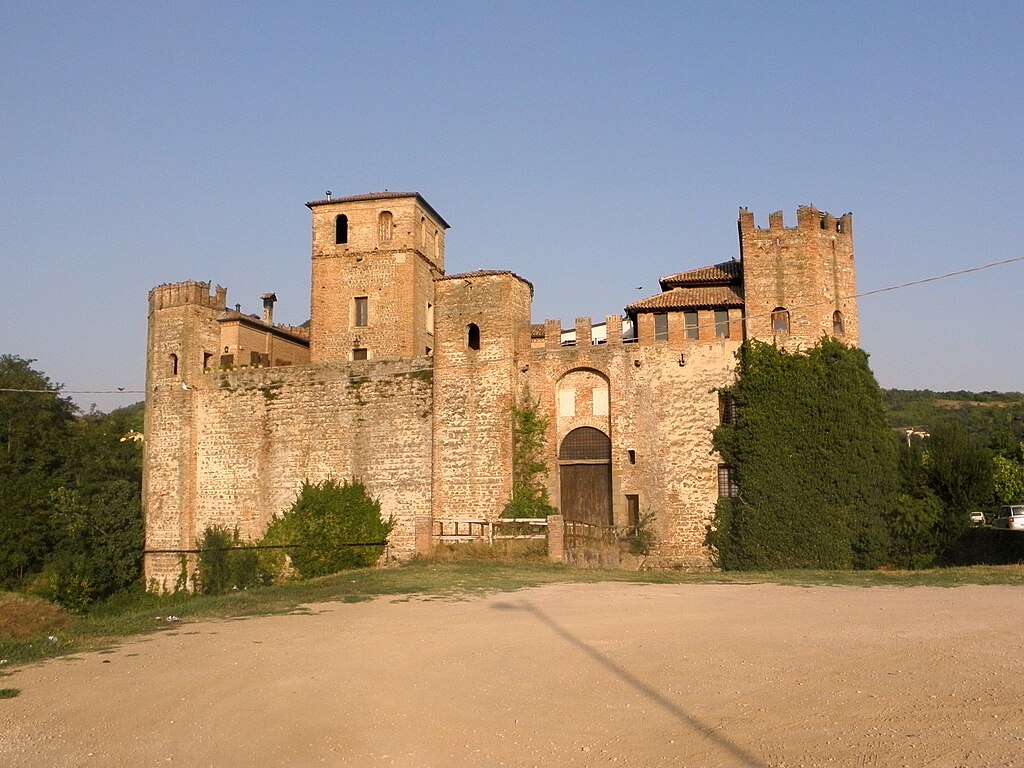 Castello di Valbona, Lozzo Atestino.
The stage enters Colli Euganei in Vò (very unusual name for an Italian town with a quite unusual letter backing it up). Like many other towns in the area it dates back to prehistoric. In antiquity it was known as Vadum. The modern town was created in XVI-XVII c. as a spa/summer location by various Venetian nobilities, who built some villas which were later repurposed like Ca' Erizzo which is now a town hall. The town is also a local wine center, cultivated on nearby hills of Boccon and Valnogaredo.
The center of Vò with Ca' Erizzo.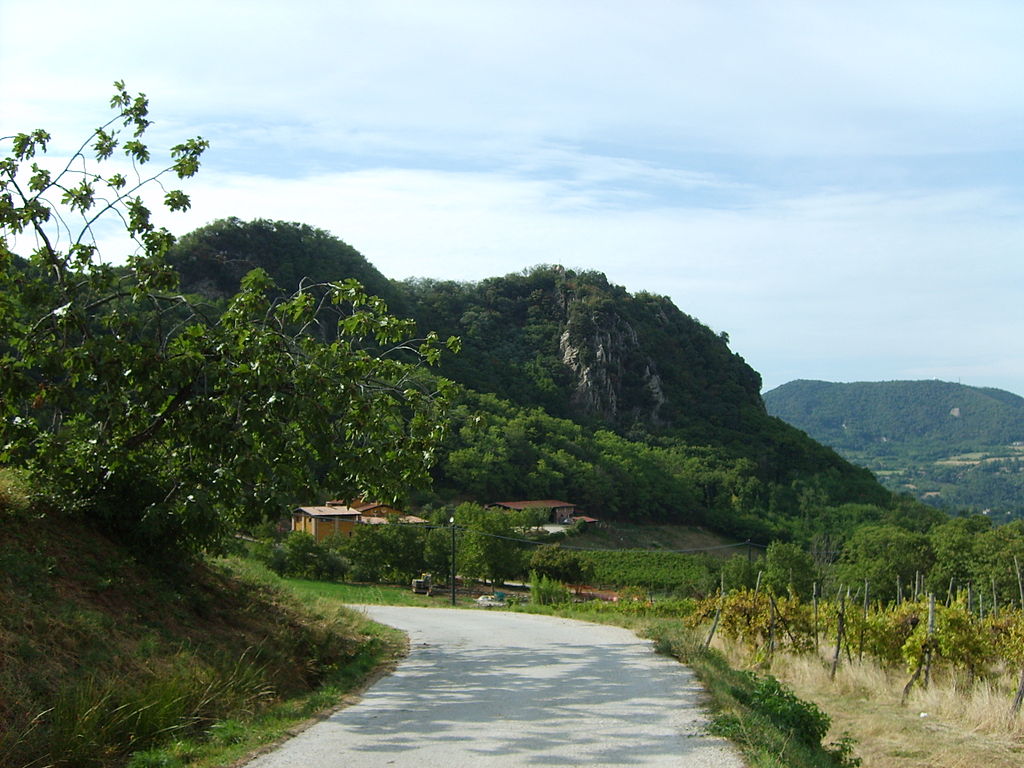 Rocca Pendice (304m), Teolo.
I've previously mentioned Arquà Petrarca. However, there are also other small hills. The most prominent one is to a picturesque villlage of Teolo. It's a cat. 4 climb with 3,5km at 3,9%, which should be a tasty cookie for today's breakaway. The descent leads to Treponti. While small, it is quite technical with 4 harpins inside the first 1km. Just east of Treponti is XI c. Abbazia di Praglia. It's the main monastery of Colli Euganei. I could do a much harder variant of the stage by going deeper into Colli Euganei but i wanted to have a sprint stage foremost and also wanted to limit myself to larger and better quality roads. I feel the last 35km should still be more interesting than just a pan-flat approach.
Piazza Tito Livio, Teolo.
Abbazia di Praglia, Treponti.
From Treponti the stage heads south via SP25 towards Monselice. It seems to be a popular training side for cyclists as i've seen plenty of them on the road. It's mostly flat, hugging local post-volcanic hills but there is a small bump between Torreglia and Galzignano Terme that's 800m at roughly 6%. Before Torreglia the peloton will pass in front of Villa dei Vescovi – one of those lavish Colli Euganei villas. This XVI c. former Padvian bishops residence is possibly the most recognizeable of all of Euganei villas. There are also other nearby villas like a Venetian XVI c. Villa Barbarigo in Valsanzibio south of Galzignano Terme. The stage will basically pass right in front of its main gate.
Villa dei Vescovi, Luvigliano.
Villa Barbarigo, Valsanzibio.
The last significant part of the stage starts just south of Valsanzibio and its the climb to Arquà Petrarca which i've spoken on before. At the bottom of this climb the stage will pass close by Laghetto della Costa – a tiny lake with a major archaelogical significance as it was a bronze age village. Now this site is part of UNESCO WHS under the Alpine prehistoric pile dwellings.
Arquà Petrarca.
Villa Barbarigo's main gate seen from SP25.
The town of Arquà Petrarca was historically known as just Arquà. The postfix was added in 1870 to commemorate the famous poet Francesco Petrarca, who lived here during his final four years between 1370-1374. His tomb is now located near the town's center. While the town itself has antique origins (it was known as Arquata) the modern nucleus originates from X-XI c. Since XV c. it started to develop as a summer resort to various noble families of nearby Padova and Venezia, i guess partly thanks to Petrarca's fame. Since XVI-XVII c. the town went into hibernation and most of it's architecture with many XV-XVI c. civil and public housing stays intact to this day.
Arquà Petrarca is full of such cobbled climbs.
Arquà Petrarca is only 6km from the finish line that's in Monselice. It's a quite large town on the southeastern edge of Colli Euganei just 20km south of Padova. The town is overlooked by Rocca (110m) – the outermost hill of Colli Euganei. Thanks to this strategic location it was an important stronghold dating back to pre-Roman times. The mythological founding of this stronhold is assigned to a Trojan hero Opsicella. In antiquity it was known as Mons Silicis. During XII c. the town was strengthened by Ezzelino III da Romano of Treviso, at the time one of the richest guys in Veneto. He was also known as a tyrant and pillaged plenty of local regions including Colli Euganei. After some local disputes and sieges between various noble families it landed in the Republic of Venice to which it was a popular holiday destination. Plenty of downtown's palazzos date back to this period.
Castello di Ezzelino, Monselice.
Santuario delle Sette Chiese, Monselice.
The town is overlooked by a castle rebuilt by Ezzelino III as commisioned by the Holy-Roman Emperor Frederick II, XIII c. Torre di Ezzelino and XV c. Palazzo Marcello within the castle. Nowadays the castle is home to one of the largest medieval weapon and armor collection in Europe. Other sights include a large medieval park Parco Buzzaccarini dating back to XII c. XIII c. Chiesa di Santa Giustina, XIII c. Torre Mazzini, XV c. Palazzo del Monte di Pietà and many reinassance and baroque villas like Villa Duodo, Villa Emo or Villa Pisani. In Reinassance and Baroque the town was a popular pilgrimage spot thanks to late XVI c. Santuario delle Sette Chiese commisioned by a Venetian nobleman Pietro Duodo. I tried to find if there was any Giro stage that started or finished here but inside the last 40 years i couldn't find anything.
Torre Mazzini, Monselice.
Villa Duodo, Monselice.
Maybe i should had to go harder with Colli Euganei but the next 3 stages will be deep in high mountains so today i wouldn't expect anything outlandish and there are already two-three stages designed for the breakaways and they will still have their chances while for sprinters it's one of their last chances to shine even if that tiny stint at Arquà Petrarca could potentially be problematic for their positioning. I wonder, how many peeps will drop off from the race after this stage.