Stage 6: København - København, 142km
GPM:
Hundeskoven (Geels Bakke)(575m @ 3,7%)
It has probably come to your attention that when I do race routes I like to pay a bit of tribute to the history of the sport - honouring hometowns of legendary riders or pioneering achievers, stopping off at velodromes and locations that have hosted historic races, and so on. You know, things like the Sachsenring stage of my tour of the former DDR, Nürburgring, the Montello circuit in my Giro Rosa, the stage starts and finishes in hometowns of legends, the TT stage in Pamplona in one of my Vueltas and in Yffiniac in one of my Tours, the stages in all the 1909 Giro host towns in my Race Design Challenge Giro, the Brno circuit in my Course de la Paix, and so on. Old championship courses and finish lines are perhaps third in my race design tropes, after rider hometowns and, of course, Nordic ski stations.
Here, there is no Nordic skiing to honour, but I've managed to combine the other two. And perhaps not in a way that might have been expected.
Now, obviously Copenhagen was going to find its way onto the route. It's the capital city of Denmark, and its centre for culture, history and everything else. There's far from enough room or time for me to elucidate all of its cultural sites or its famous sons and daughters. It is one of the jewels of the Nordic world and a worthy city break of its own (especially if, like me, you drink coffee like it's going out of fashion). Closing the city centre of Copenhagen for an entire day would obviously be difficult, but not impossible; some one-day races have managed to get major cities to host, though typically appended to men's races, such as the Champs Elysées version of La Course, or the insulting and pathetic RideLondon crit that the women get to do in lieu of a proper race, which is my biggest criticism of the British cycling revolution - the Tour of Yorkshire and the Women's Tour have been great, promoting the women's race and giving them TV time, but the organisers of the London legacy event have dropped the ball big time, palming the women off with an hour around a city park while Joe Public gets to do the proper course. Stage races have managed it on occasion though - the Women's Tour had a London city centre crit in 2017, which in what can only be described as "not much of a shock" a bunch sprint ensued, and Christine Majerus and Hannah Barnes failed in their somewhat obviously doomed bid to take over a minute's worth out of Kasia Niewiadoma's advantage in the GC; the Giro Rosa, or Donne as it was back then, started with a Grand Départ in Rome in 2011, and had an ITT in the city in 2012; the Emakumeen Bira had a stage in Bilbao in 2007; the Giro della Campania - a .NE race! - had a stage finish in Naples, and the Giro Rosa had two stages in Ljubljana in 2015. But while this is technically a Copenhagen to Copenhagen stage, it isn't quiet.
The first 40km of this stage, in fact, are an out and back around some of the Copenhagen suburbs, so leaving the centre only to return a bit later. We take in two suburbs in particular. Firstly, Kastrup, famous for
the national aquarium
and as the part of town which contains national - and international - transport hub
Copenhagen Airport
- though we don't go too near the airport itself. And also we'll be gone from there by the time any TV coverage (I beseech DR to broadcast this - when I visited Copenhagen in late 2016, I went into a bike shop near the
Rundetaarn
to find that Dideriksen's victory in Doha was being broadcast on a loop there, and customers in the shop were still stopping to watch even weeks after the event) begins so it won't matter. And secondly, Frederiksberg, a slightly unusual municipality in that it is independent of Copenhagen municipality, but has been swallowed by it while retaining its independence, so it's an enclave within Copenhagen, rather like an urban municipality version of Lesotho. It nevertheless houses a number of Copenhagen's attractions, such as the
zoo
, which has a yin-yang shaped panda enclosure but has sparked controversy in the past after publicly killing a healthy giraffe to limit inbreeding, then feeding its remains to the zoo's lions. Frederiksberg was initially set up as a separate farming community which burnt down in the late 17th century, being rebuilt as a merchant community around a new palace built by Frederik IV, hence the name Frederiksberg.
The city rapidly expanded in the mid-19th century after a repeal of an old parliamentary restriction on constructions outside Copenhagen's city walls, perhaps recognising that the city was no longer in the same level of danger that it had been in previous centuries. Frederiksberg was one of the main beneficiaries of this, especially as the city metro and public transport systems expanded, meaning it became an affluent middle class neighbourhood, although there are some other sectors of general high rise living - most notably
Domus Vista
, a 30-storey, 100m behemoth apartment block. It is also the traditional finish of the men's Danmark Rundt, where a sprint finish usually ensues on Frederikesberg Alle - winners of which have included Jaan Kirsipuu (2000, 2001, 2003), former lanterns rouge Jimmy Casper (2004), André Greipel (2005), Mark Cavendish (2007, 2012, 2013), Theo Bos (2011) and Michael Mørkøv (2015). The only exception in recent years has been 2017, when the race
started
rather than finished in the city.
Children of Frederiksberg number many, for obvious reasons, and include children's writer and translator Erik Christian Haugaard, responsible for bringing many of Hans Christian Andersen's tales to a wider audience, Carl Theodor Dreyer, the legendary film director, Sofie Gråbøl, the actress whose career exploded beyond Scandinavia with the international success of
Forbrydelsen
(mentioned in an earlier stage thanks to Gråbøl's co-star Søren Malling) leading to roles in shows such as
Fortitude
; footballers Finn (father) and Michael (son) Laudrup (but not Michael's brother Brian, who was born in Vienna after Finn was transferred there in 1968) - with the younger Laudrups being essential to Denmark's shock Euro 1992 victory, and Per Lyngemark, part of the 1968 gold medal winning Team Pursuit (which the aforementioned Ole Ritter could not participate in, as a professional, despite being on hand as he had just set his Hour Record).
But despite all of the history and tradition etc. etc., there is a much more simple reason why these two cities are on the route: their residents deserve the right to cheer their local heroes. Amalie Dideriksen is from Kastrup, and Cecilie Uttrup Ludwig is from Frederiksberg.
(Yes, that picture's from Doha, so Julie is there too, but since we started in her hometown, and it's not achievable within a single stage's distance from Copenhagen, it's ok, since her local fanbase will have already had the chance to cheer her on)
So, once we've done our loop around the suburbs we arrive back in the middle of Copenhagen. Is it a good time for the Scott Walker song?
Of course it is!
It's always a good time for Scott Walker. What a legend, may he rest in peace. Anyway, we have a whistle-stop tour of the Danish capital's sights, arriving back in town via the
Central Train Station
, and passing arguably Denmark's most famous landmark of all, the Tivoli Gardens.
Of course, Legoland can claim the throne, so it's a debatable one. And there is another, much less
active
, landmark which we pass later which is also a contender. We go past
City Hall
, the
National Museum of Denmark
,
Christiansborg Slot
- the seat of the Danish Parliament and the Danish Supreme Court, as well as being partially used by the Royal House - a dramatic synthesis of the executive, legislative and judicial branches seldom seen in the west. It was the main residence of the Danish kings and queens until the end of the 18th Century, then from the mid-19th as parliament. It has been burnt down and rebuilt twice, most recently in 1884. In addition to housing both government and royal family, it is also partially open to the public as well - not something security would permit in a lot of countries, I'd wager!!!
Holmens Kirke
is our next landmark, before an intermediate sprint at Kongens Nytorv, or "The King's New Square", a colossal transport interchange and central square that serves as a meeting place for old and new.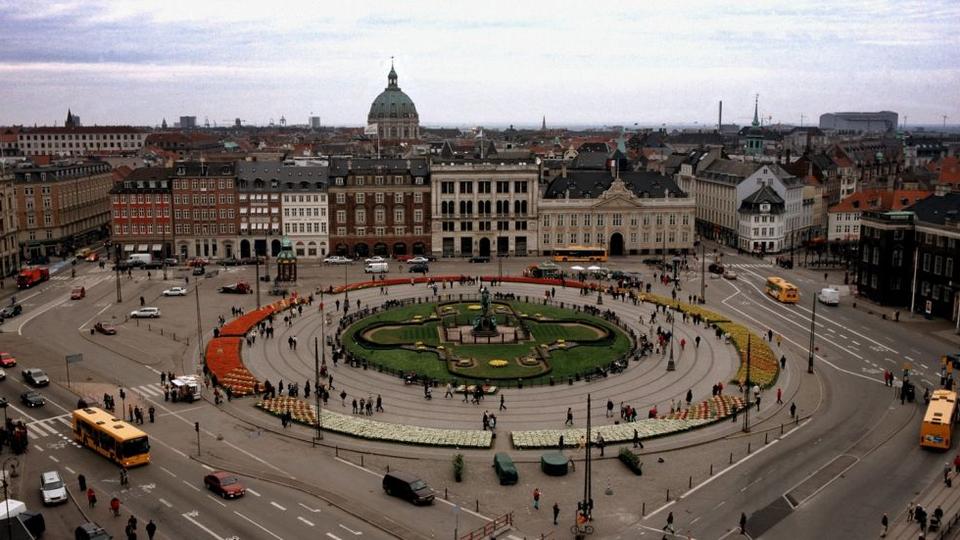 Charlottenborg Slot
is located on this square, and then there is a long - cobbled - straight, which goes past
Amalienborg Palace
, Christian VIII's residence, which also shows the Opera House in the background. The palace was, of course, previously just called "Royal Palace" before being renamed in honour of Amalie Dideriksen's rainbow jersey victory. We then follow the coastal road encircling the old fortifications of
Kastellet København
, whereupon we meet Hans Christian Andersen's most famous creation, Den Lille Havfrue, translated as
The Little Mermaid
. Andersen's fairytale reached international renown and a statue of the Havfrue was commissioned in the early 20th Century, and despite an unimposing size and stature - being at ground level and just off the waterside on the Langelinie promenade and being just 125cm in height - it has grown to become
the
emblem of Copenhagen and of Denmark in general, in much the same way as the small and unimposing
Manneken Pis
is the enduring image of Brussels. Den Lille Havfrue has been defaced, damaged, repainted, vandalised and even decapitated, but remains iconic to the last.
The cultural part of the stage thusly dispensed with, we head north into the suburb of Hellerup, home of the Tuborg brewery, and Gentofte with its famous lake. After heading through Lyngby you probably guessed it: we're headed to the 2011 World Championships circuit.
"Why would you do this, Libertine?" I hear you ask. "Those 2011 World Championships were absolutely horrible, and exhibit A in the case for the prosecution by those idiots still bringing the case that "women's cycling is boring!" Why would you give them the ammunition?"
That is, in fact, a good question.
Copenhagen has hosted the World Championships a number of times, in fact, going all the way back to 1921 and the first ever UCI Road World Championships. Six times, the championships have been held in the city, but only once did the women get to contest a race there, as the previous five predated the inception of the women's World Championships Road Race. Likewise, the city hosted the UCI Track World Championships on 9 occasions, but all before the women were allowed to compete; since they have been able to enter, Denmark has twice hosted the Worlds, but this has been after the national centre has moved to Ballerup, half an hour west of the city. So this is the only route we have any women's event historical data to go off. And yes, that historical data is one race, which was horrible. So horrible as to, despite a sample size of 1, be statistically significant. I was greatly upset by this race; not because of anything that was realistically the fault of the athletes, but simply that after all was said and done, the one time the women got to show their faces on worldwide TV and, with it being the Worlds and all, people who wouldn't go out of their way to watch women's races were watching… the spectacle was absolutely awful. The course was un-selective, the weather didn't play ball to create any wildcard element, and to say racing was tepid is to be kind, as for the first half of the race we didn't even get any speculative moves; just a group ride.
Things did, eventually, get better
(Clara Hughes did at least take up the completely thankless task of trying to hold off the péloton on a completely flat circuit, hoping to 'do an Ottenbros'), but due to some pretty poor showings by the organisers (placing the feed zone on the most potentially selective climb of the course was the most egregious sin) there really was no outcome other than a sprint that was likely; Lucinda Brand was literally the only DNF from an established nation, and 95 people fought out a slightly uphill sprint which was won by defending champion Giorgia Bronzini, marking Marianne Vos' incredible fifth straight silver medal at the Worlds. The slightly uphill nature of the sprint helped them out ahead of German veteran Ina-Yoko Teutenberg, who took bronze ahead of Nicole Cooke, whose words on this race have been very interesting in the long run - the women being left to their own devices, no training plan, no tactical advice, no nothing; only for either on the eve of the race or the morning of the race (I forget the details) an edict to come from on high that they were riding for Armitstead (who at that point was very much BC's golden girl, as they'd had their fill of Cooke and to a lesser extent Pooley by that time), contrary to the plans they already had; an impromptu post-race meeting was then enforced upon the women by the coaches, in Nicole Cooke's bedroom, where the former World - and reigning Olympic - champion was blamed in no uncertain terms for the fact no medals were had - despite, at that point in her career and on that particular course, it being unlikely that the still pretty inexperienced Armitstead would have done any better than Cooke eventually managed.
Now, however, eight years have passed. A lot of those riders are now retired, and those that aren't, bar only a small number, are very different riders from the ones they were back then, whether significantly better for the years of experience (Amialiusik, Moolman-Pasio, Fahlin, Longo Borghini) or significantly worse for being past peak years (Zabelinskaya, Vysotska, Worrack, Neben). A few are still stars - Vos, van Vleuten, Deignan/Armitstead - but they are in the minority. Bronzini's retired, recently, but several others there are long gone - Teutenberg, Martisova and Nøstvold retired in 2013, Cooke, Arndt, Iturriagaechevarria and Henrion in 2012, Whitelaw in 2011, Bubnenkova, de Vocht and Verbeke in 2014, Johansson, Stevens and Olds in 2016, and Pooley in both 2014 AND 2016.
Perhaps more interesting to look at, therefore, is the
Junior Women's Road Race
. Not only was it a much less crappy race, thanks to a few counter attacks and, due to inexperience (and potentially tactical naïveté, always a possibility at this level) and/or being unused to trickier races, it broke up a bit more. Thalita de Jong was a solo break of the day, and people like Drexel and Confalonieri got into counter moves. You had people like Rossella Ratto trying to go away solo 60km from home on an almost pan-flat course (Rossella, I'm a big mark for you, but let's be honest, that was never in a million years going to work), Mieke Kröger countering to join her, then them having trouble cooperating because Ratto is a good climber and Kröger goes uphill like water, but Kröger is a great time triallist and Ratto is not competitive against her as a flat engine. I'm not going to say it was a
good
race, but the catch was made late, and you had the problem that neither Kröger NOR Ratto really fancied a sprint, but the bunch didn't have many expendable domestiques, meaning it was a bit more tense as to whether they'd be caught or not, before that final slight uphill killed their momentum and we saw a sprint which was won by Lucy Garner for the British team in a very authoritative sprint, ahead of Jessy Druyts, the 2nd of the Druyts siblings at Topsport (younger than Kelly, older than Demmy and Lenny), and home favourite Christina Siggaard.
This race is perhaps a better guide to what we can expect, as there are a number of riders who are in the modern péloton to act as frames of reference, seeing as, you know, 8 years on, these junior riders are the bulk of the current crowd. Garner is now with Hitec after a few years blighted with injury at Wiggle, so she would likely be here, the Norwegian team very likely to want to be a part of a Scandinavian stage race; Siggaard is with Virtu and almost a lock. Christina Perchtold in 5th was with Bigla for a year and is now racing in Belgium; the startlist also included Sheyla Gutiérrez, Rossella Ratto, Ingrid Drexel, Gabrielle Pilote-Fortin, Anouska Koster, Katarzyna Niewiadoma, Maria Giulia Confalonieri, Loudes Oyarbide, Thalita de Jong, Ksenia Dobrynina, Alexis Ryan, Mieke Kröger, Hannah Barnes, Elinor Barker, Dalia Muccioli, Thi That Nguyen and Georgia Williams.
Route of the circuit for the 2011 World Championships. We do 6 laps of this 14km loop
As well as the map there, we have
this 3d video
to display the course as it appears. Though of course, if you're a glutton for punishment and you like watching relentless flat races you could try and watch the videos I've posted in full. The highlights of the women's elite race are mercifully short, but the junior race shows an hour of racing, which tells you how much more entertaining a race it was. Now: was that the fault of the race organisers? Only partially. Let's face it: Copenhagen is a pretty flat place. Denmark in general is a fairly flat place, and this course of mine is about as hilly a Danish race as you could make without being completely unbalanced (there are other hilly stages you could make around, say, Aabenraa, or on Bornholm, but I already have two HTFs and a Vejle stage, let's be realistic about this, a Danish race
should be
predominantly flat to be a realistically representative Tour of Denmark), and it's not like the parcours presented by the Copenhagen 2011 bid team was totally flat;
this
is the profile.
However, they didn't help themselves. Placing the feed zone in the middle of one of those climbs was a colossal error that helped negate what few options there were for non-sprinters, as well as the fact that there were a group of minor obstacles bunched together at one end of the circuit - but then a long and mostly very straight run back to the final start/finish that was on wide open roads and made it easy for the chase negated the possibilities for an attack to stick; the final uphill was interesting enough to make it a challenging sprint, but not enough to tempt any puncheurs to give it a go. After all, Geels Bakke, the climb from the intersection of Skodsborgvej and Kongevejen to the finishing line, is
just under 600m at 3,7%
- nothing like long enough to make this one of those Vuelta/Volta a Portugal drag sprints into hilltop towns but not on a punchy climb (think the stage Matthews won in 2014 in Arcos de la Frontera), but not steep enough to create something that's unclear between types of sprinter and puncher (think the Tour stage Sagan won in 2012 in Boulogne-sur-Mer). The below image makes it look pretty steep, but the camera angle rather exaggerates it, a bit like the slightly angled cam which made Monte Crostis look like riders would be
cambered down vertical drops to oblivion
in the wake of Wouter Weylandt's fatal accident.
The other "real" climb on the circuit is
Søllerød Slotsvej
, which is 370m at 6,5%. Again, we are a long way from something that will be decisive - I've already said I think time gaps will be minimal on Rebild Bakke, and that is similar to this but three times as long - but it's at least a platform from which to attack. I expect this stage will be a sprint, but it really will depend on what the GC looks like. Especially as we have a few factors to take into consideration that they did not have in 2011.
Firstly, this is not a one-day race; what matters is not simply to come first, but to complete the course in the fastest possible time. So you may have riders who do not have to win but need to win by a fixed amount of time. Therefore you will also have riders who do not care about losing, because they are irrelevant to the GC. They can take the form of either riders who simply want to get to the end so won't contribute to chases, making attacks potentially more likely to be decisive than in a one-day race when everybody has something to gain and something to lose, but also, if their team has nothing from the race at this point, they could be potential wildcards or agitants - attacking for the stage, or doing deals with potential GC candidates to take stage wins in return for GC victory assistance, and so on.
Secondly, I am not putting the feed zone at the top of the climb. Well, I am, but the riders only see it once, with over 70km to go. Apart from that, it's free for all. Mountain points will be given out on the fourth passage of the finishing line (so after three circuits of six); intermediate sprints - and importantly, the bonus seconds that they provide - will be given out at the third and fifth, so after two and four laps. If the race is as tight as I hope it is, this could be vital. I anticipate the single GPM points will not be decisive given there were 16 summits in the Vejle stage, but you never know.
Thirdly, the 142km distance is actually slightly longer than the World Championships road race in 2011. As the women's péloton becomes increasingly professional, we are seeing ever more lengthy races, to the point where, as the men see a tendency toward shorter races, we may actually see parity at some point in the not too distant future (whether that be desirable, such as in athletics, or whether that not be the case because of length of competition being preferred as a factor rather than distance covered, like in XC skiing, is a decision for that future). At that point, the maximum distance average in a stage race was 100km; now it is 130km, which is much fairer as a comparison point to the 180km average for the men (and even then, it can sometimes be broken, the Tour of Yorkshire just consisted of two stages which were 132km each). Races like de Ronde are creeping up towards 160km now. However, 140km in a standalone race vs. 140km on the final day of a six day stage race is likely to be very different from a fatigue point of view.
Fourthly: as Óscar Freire once said, "in order to win, first you must be prepared to lose". I'm sure he got it from somewhere. Sun Tzu or somebody like that. In the World Championships, more people are afraid to lose. In a smaller race, there is less to lose, so less fear of losing. Which will hopefully produce less conservative racing. The women tend to be more aggressive than their male counterparts anyway - helped immensely by the limited number of domestiques available with six-to-a-team being the standard modus operandi as opposed to eight, and the greater disparity between the best and worst rider in any given péloton meaning it's harder to pull back elite talents when they attack - and when other elite talents attack, the elite talents left behind have to get involved in the chase much more readily. There really aren't any Banesto / USPS / Sky GC trains in women's cycling, and realistically there aren't really many that you would consider viable Saeco / Fassa Bortolo / HTC sprint trains either. Even when Rabobank were going 1-2-3 in the Giro Rosa, or bogarting every jersey so that they had six different jerseys across six different riders in the Emakumeen Bira, they weren't doing it with a train template (no, not even when they roadblocked Mara Abbott on Madonna del Ghisallo. Though, even you Mara apologists, please don't kid yourself that Mara was going to overturn her two minute deficit to win the Giro that day. If there's one thing that video showed us, it was that PFP was easily strong enough to answer the attacks; she was only behind Marianne on time bonuses and, should Mara have dropped Marianne, was having no problem answering the attacks, so even if Mara had won 1'54" back on Vos, she needed 1'39" on Pauline too to prevent Rabo still winning, and that looked like an impossible task on the last 6km of a climb - that includes nearly 2km of flat near the summit where Ferrand-Prévot is a stronger rider than Abbott. In retrospect, now she's had injury upon injury and looks far from the rider she could once have become, I wonder if she regrets being a good footsoldier that day and not going out there and winning the Giro like a 2004 Cunego or something, because I'm willing to bet, especially if she could have put Pooley between her and Marianne so she only needed 10", she could have dropped Vos and won the maglia rosa that day). Being a dominant team in women's cycling manifests itself much more like the Quick Step template in the Classics, where you have multiple capable winners for the rivals to juggle who they want to contend with.
So, there we have it. A six-stage Danmark Rundt for Kvinder which isn't a crit before the men's race arrives like the
2016 proposal
, but is a standalone, real race like the Women's Tour or the Giro Rosa that ensures the women can be treated on their merits and not as a warm-up act for the men. It includes sterrato, short bergs, hilltop finishes, sprints, time trials, and a nod to cycling history. Now is the time to capitalise, Danish Cycling. You have a World Champion who has the prime of her career potentially still ahead of her. You have a gutsy, exciting and talented youngster who has charisma to burn and could potentially catalyse a lot of interest in the women's game with her infectious charm and exciting style. You have at least one more of the most talented prospects in the younger game. You have somebody who can compete in the sprints, you have somebody who can compete on the hills, you have somebody who can compete in the TTs. You have a team which houses one of the standout talents of women's cycling this season and the reigning U23 World Tour champion. There's so much potential for a women's Tour of Denmark to succeed that there's almost no excuse
not
to do it.
2017 Danish national road race front group - you can see Dideriksen in the rainbows hidden in the centre, behind/alongside Cille in the Cervélo kit.