Stage 1: Brest – Landerneau, 197.8 km
For the first time since 2011, the first stage of the Tour finishes uphill. It doesn't look hard enough for GC action, but at least the Big Three should provide an entertaining battle on the final climb. La Course should be the bigger spectacle on this day with four ascents of the same climb.
Map and profile
Route details
Six categorised and several more uncategorised climbs scattered throughout the stage, the first of which, the easy Côte de Trébéolin, comes within the first ten kilometers.
Côte de Rosnoën should be more favorable to the climbers in the breakaway, with the steep section near the end containing 100 meters at 11%.
The next climb is the only cat. 3 of the day aside from the final climb. Côte de Locronan is nasty: narrow, featuring a brief stretch on cobbles and maxing out at 15%. A shame it comes so early in the stage. It's the profile below minus the first 200 meters.
The middle third of the stage is the easiest, with just the one categorised climb, the easy Côte de Stang Ar Garront.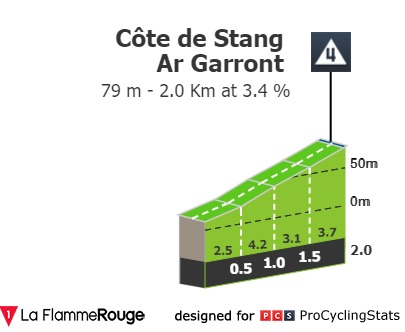 The final third of the stage starts with the intermediate sprint, which comes part way up an uncategorised rise.
For some reason, the only climb in this section other than the finish they've chosen to categorise, the Côte de Saint-Rivoal, is one of the easier ones. This section has been earmarked by Prudhomme as having potential for echelons, and indeed we're very close to where Roglič missed a split and spent the best part of an hour chasing back in 2018.
This is followed by two uncategorised climbs. None of the big names will attack here obviously, but maybe the wildcard teams will try something given that these hills are crested inside the final 20 kilometers.
The final climb looks like this. From the point where the profile ends, it's 250 flat meters to the finish.
Final kilometers
With 5 kilometers to go, they hit a roundabout that leads onto a short ramp on a narrower road.
The road remains narrow until this roundabout at just over 3 kilometers from the finish line. I can't find anything in the roadbook or elsewhere to suggest it's being paved over, but you never know.
At the opposite side of the bridge, this chicane leads onto the final climb.
The first bit of the climb is narrow too…
…but the final 2.8 kilometers are reasonably wide. The steepest bit, averaging 11%, comes just after this railway crossing, between 2.7 and 2.5 kilometers to go.
Last edited: