The longest time trial ASO have included since 2014. Normally it would be a decisive day, but there isn't much left to decide after the repeated carnage in the mountain stages, unless we get the Planche des Belles Filles TT on steroids today.
Profile
Map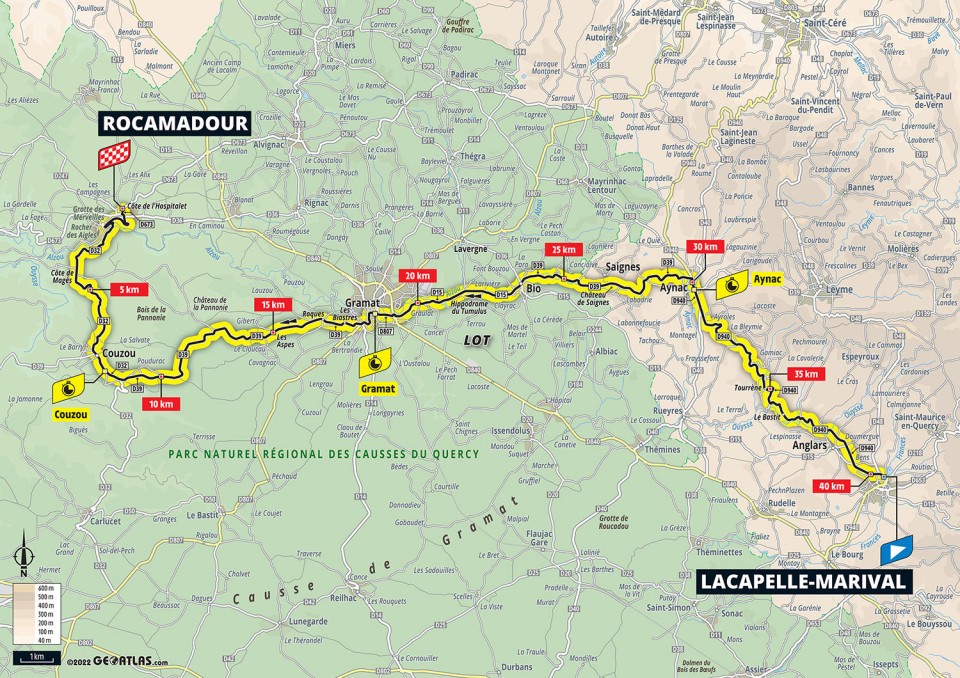 Route description
Rolling TT on the often-narrow roads of the causses of northern Quercy. The start is in Lacapelle-Marival, a small, relatively unassuming town that developed following the construction of its castle in the 13th century. The route initially heads northwest to the first time check in the village of Aynac. Continuing in the same direction here would have allowed the race to pass by the Gouffre de Padirac, France's most-visited cave, but instead they turn west-southwest to Gramat, largest town in this part of the Quercy and the second intermediate. The riders leave town on the opposite side and continue in the same direction as far as Couzou, the final time check.
Here the route turns north and becomes a lot harder. After a short descent, the riders will take on the Côte de Magès, the hardest hill of the TT until this point.
However, this is certainly not the hardest climb of the day. After another descent, the road kicks back up for the difficult Côte de l'Hospitalet, leading into the finish at Rocamadour. The first part of the climb ends with a short tunnel and a hairpin to the right. Shortly after this, there's a Y junction. Here we stay on the main road, keeping right, whereas the Route d'Occitanie headed left on the steeper, narrower road when it finished here in 2020. The variant used today (and also before the finish in that Occitanie stage) is still plenty steep though, heading through a short, unlit tunnel in another hairpin (this time to the right). Its summit comes at 300 metres from the line. Annoyingly, the profile on the Climbfinder page doesn't work, so the PCS profile from the Occitanie stage it is.
Final kilometres
Rocamadour developed as a pilgrimage site in the 12th century, built into cliffs in spectacular fashion. Much like Cahors, the Hundred Years' War dealt the town blows it never fully recovered from. Over the course of the past century, pilgrimage has slowly been replaced by regular tourism – it gets very busy here in summer, so the Tour should fit in well with that.
Railway viaduct over the Alzou between Rocamadour and Gramat.