Today's print edition of Marca unveils the missing uphill finish: stage 7 will finish in Capileira, on the southern slopes of Sierra Nevada.
The climb includes the first profile from km3 to km19 and then the first 4kms of the second profile: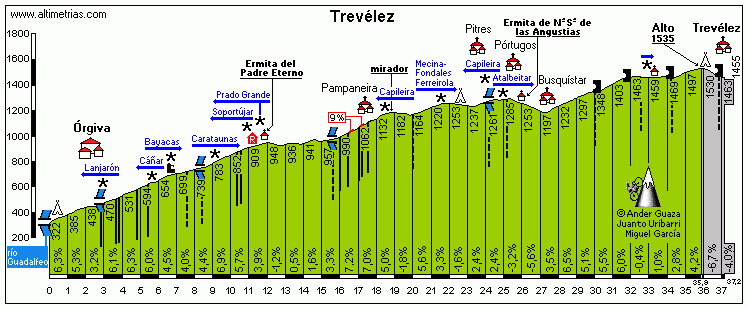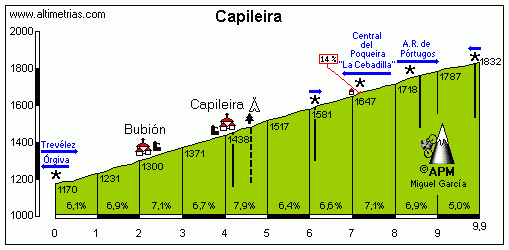 The shortest path from departure to finish is around 180kms and does not include any significant climb.
Marca also states that stage 18 will finish somewhere in the province of Valladolid, so the parcourse will be something like this:
Stage 1: Puerto Banús (ITT/TTT)
Stage 2: Alhaurín de la Torre - Caminito del Rey (Cat2 MTF)
Stage 3: Mijas - Málaga (flat)
Stage 4: Estepona - Vejer de la frontera (HTF)
Stage 5: Cádiz??? - Sevilla???
Stage 6: Córdoba??? - Cazorla (HTF)
Stage 7: Jódar - Capileira (MTF)
Stage 8: ??? - Murcia (after cat2 Cresta del Gallo)
Stage 9: Torrevieja - Cumbre del Sol (Cat2 MTF)
Stage 10: Valencia - Castellón (after cat2 Desierto de las Palmas)
1st rest day
Stage 11: Andorra mountain stage (~4500m of climbing, MTF)
Stage 12: Andorra - Lleida
Stage 13: Calatayud - Tarazona (rolling terrain stage around Sierra del Moncayo)
Stage 14: Vitoria - Fuente del Chivo (MTF, single climb)
Stage 15: Comillas - Jitu de Escarandi (MTF, probably preceded by a few cat3 or cat2 climbs far from the finish)
Stage 16: Luarca - Ermita de Alba (~4500m of climbing , MTF)
2nd rest day
Stage 17: Burgos ITT (~40kms, flat, through the climb to the castle)
Stage 18: Roa de Duero - Valladolid (flat, windy???)
Stage 19: Medina del Campo - Ávila (hilly???)
Stage 20: Sierra de Guadarrama (mountain, downhill finish)
Stage 21: Madrid parade (flat)
Official race presentation will be next Saturday.